Belden patch cords
Karina Romera Scott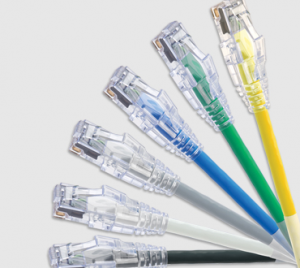 "Patch cords" diseñados para llevar video 4K sobre IP Lea las caracteristicas de estos patch cords en la hoja de datos de Belden que abajo le presentamos.
Product Description
4K UHD Media Patch Cord, Shielded 4 Pair, 23 AWG Solid, CMR, T568A/B-T568A/B (cable 2183R)
Technical Specifications
Product Overview
Suitable Applications: HDBaseT, Full 5-Play, 4K (UHD/DCI), POH, POE.
Physical Characteristics (Overall)
Conductor
Stranding Material No. of Pairs
Solid BC – Bare Copper 4
Total Number of Pairs: 4
Conductor Size: 23 AWG
Insulation
Material
PO – Polyolefin
Outer Shield Material
Type Material Material Trade Name Coverage [%] Drainwire Material Drainwire AWG
Corrugated
Tape Aluminum Foil-Polyester Beldfoil® 100 % TC – Tinned Copper 26
Outer Jacket Material
Material Nominal Diameter
PVC – Polyvinyl Chloride .290 in.
Wiring Scheme: T568A/B-T568A/B
Packaging: Individually packaged in a clear plastic bag.
Connectors
Materials
Description Material Type
Plug Polycarbonate RJ45
Boot Polycarbonate
Front Connection Phosphor Bronze with 50u inch Gold over Nickel Plating Blades
Electrical Characteristics
Dielectric Strength: 1,000 V RMS @ 60 Hz for 1 minute
Current Rating: 1.500 A
Insulation Resistance: 500 M-Ohm Minimum
Max Contact Resistance: 20 mOhm
Shielding: F/UTP – Overall Foil
High Freq
Frequency [MHz] Max. Insertion Loss (Attenuation)
1 MHz 2.000 dB/100m
4 MHz 3.800 dB/100m
8 MHz 4.300 dB/100m
10 MHz 5.900 dB/100m
16 MHz 7.500 dB/100m
20 MHz 8.300 dB/100m
25 MHz 9.300 dB/100m
62.500 MHz 14.800 dB/100m
31.250 MHz 10.400 dB/100m
100 MHz 18.800 dB/100m
125 MHz 21.000 dB/100m
155 MHz 23.000 dB/100m
175 MHz 24.900 dB/100m
200 MHz 26.600 dB/100m
250 MHz 29.800 dB/100m
300 MHz 32.700 dB/100m
400 MHz 37.900 dB/100m
500 MHz 42.500 dB/100m
Temperature Range
Installation Temp Range: -10°C To +60°C
Storage Temp Range: -40°C To +70°C
Operating Temp Range: -10°C To +60°C
Mechanical Characteristics
Max Recommended Pulling Tension: 11.250 lbs
Min Bend Radius (Overall Cable): 2.200 in.
Plug /Jack Compatibility: RJ45
Termination Interface
Termination Connection Durabilities
RJ45 Mated Connection 750 Cycles
Standards
NEC/(UL) Specification: CMR
CEC/C(UL) Specification: CMR
UL Rating: Riser
Other Standards: FCC Part 68, Subpart F, IEC 60603-7, UL 1863 and CSA-22.2 No. 233
Applicable Environmental and Other Programs
EU Directive 2002/95/EC (RoHS): Yes
EU RoHS Compliance Date (yyyy-mm-dd): 2006/01/01
MII Order #39 (China RoHS): EUP 50
Suitability
Suitability – Indoor: Yes
Flammability, LS0H, Toxicity Testing
Safety Listing: c(UL)us Listed
Part Number
Variants
Item # Color Length
AV2183R100005 Black 5 ft
AV2183R100007 Black 7 ft
AV2183R100017 Black 17 ft
AV2183R100050 Black 50 ft
AV2183R106005 Blue, Light 5 ft
AV2183R106007 Blue, Light 7 ft
AV2183R106017 Blue, Light 17 ft
AV2183R106050 Blue, Light 50 ft
Notes
Labeling: Belden Part Number, Performance Acronym, Wiring Scheme and Cord Length.
© 2018 Belden, Inc
Todos los derechos reservados.